From January 30th until April 22nd 2018, the Ceramics and its Dimensions: Shaping the Future exhibition was on display at Bröhan Museum Berlin. During that time the exhibition attracted approximately 20 000 visitors. One of the highlights of the exhibition in Berlin was the Ceramics and Talks event organised on April 14th.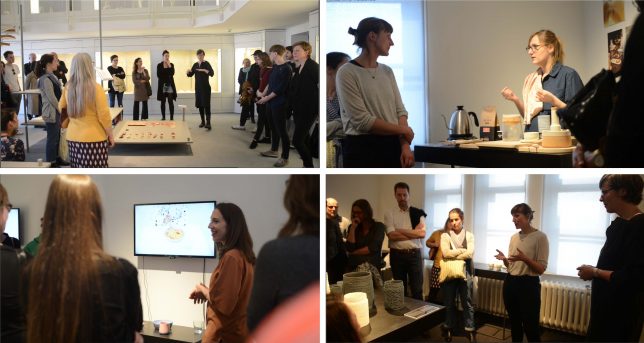 In Berlin the core exhibition was supplemented by current student projects from Weißensee School of Art and Design Berlin. The student projects were supervised by Professor Barbara Schmidt from Weißensee. She was also responsible for the Berlin edition of the Shaping the Future exhibition and gave several guided tours through the exhibition during the three months it was open at Bröhan-Museum.
A part of the events related to the Shaping the Future exhibition are the Round Table meetings that are organised at the exhibition venues around Europe. In Berlin the Ceramics and Talks event was organised as a local adaption of the Round Table concept. Before Berlin the discussions have taken place already in Fiskars (Finland) Selb (Germany) and Stoke-on-Trent (UK).  The idea of the discussions is to discuss the value and future of ceramics in the local context and in relation to the themes of the Shaping the Future exhibition. The participants are local people working in the field of ceramic as well as people associated in the Shaping the Future exhibition.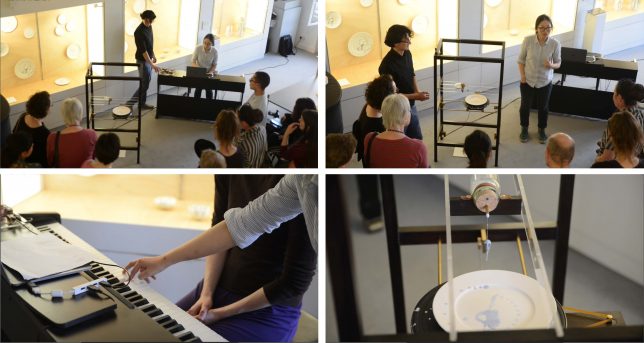 During the Ceramics and Talks event in Berlin the students of Weißensee presented their works that are a part of the Shaping the Future exhibition and made the exhibition more accessible to the audience through tastings and live performances. Open to the general public, the event attracted numerous guests who had the opportunity to take part in for example a Coffee Ceremony, taste fermented food with specially designed ceramic tools, decorate plates with the Melodic Scribe installation and understand the process of ceramic 3D printing through a live demonstration. Professor Barbara Schmidt and students introduced the exhibition and gave background information of the works on display. Invited guests and visitors exchanged thoughts on the future perspectives of ceramics in vivid discussions.