Ceramics and its Dimensions – CLIP AWARD 2018
GO GREEN: CERAMICS – FUNCTIONAL, SUSTAINABLE, BEAUTIFUL
Short Film Competition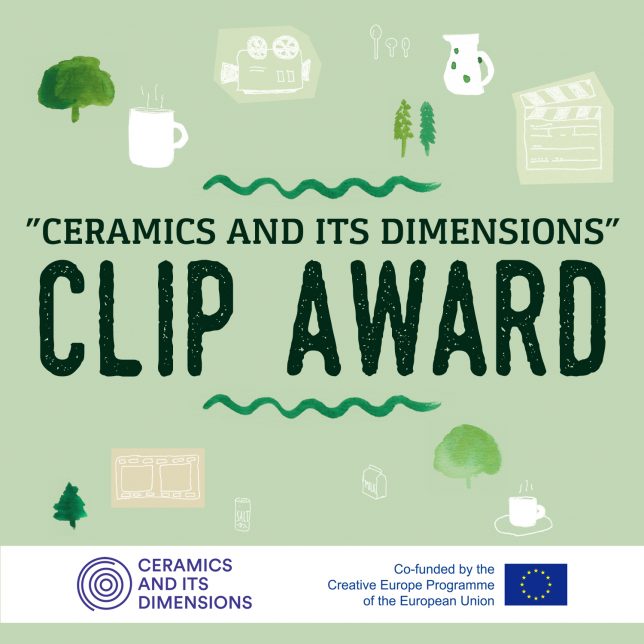 The theme of the competition "Go Green: Ceramics – Functional, Sustainable, Beautiful" invites the participants to take a look at ceramic materials in relation to the current culinary, dining and social culture. An important aspect in the competition is the value of ceramic products as they combine ecological sustainability, functionality and beauty in appearance. The social relevance, modernity and timeliness of ceramic products in Europe are also important viewpoints in the competition.
A wide range of filming styles are encouraged including documentary, fictional, animated or a combination of everything. The contribution length is limited to at least 15 to a maximum of 60 seconds. The closing date of the competition is on October 7th, 2018.

Applicants: 
All students and apprentices with film science or design background as well as graduates up to two years after their studies or training can take part in the competition. In addition, experienced film producers and film enthusiasts are invited to contribute to the competition. All participants must be at least 18 years old.
Technical information:

The clips should be uploaded on the Clip Award-Website (www.gogreen-clipaward.org). For the best possible results it is recommended to upload the film with the following technical specifications:
•    video format: HD/Full-HD, 1080p – 1920p
•    audio format: aac
•    file format: mp4, m4v, mov, avi, mpg (optimum: H.264, aac, 25 fps, 5000 kBit/s)
•   NB! Films may be submitted in any language, as long as they have German or English subtitles.
Prizes:
1. PRIZE 2.000 €
2. PRIZE 1.000 €
3. PRIZE 500 €
4. TO IO. PRIZE
 Material prizes worth 500 € each
AUDIENCE AWARD 
2 nights including breakfast for 2 
in a 4-star hotel in Bad Alexanderbad the land of porcelain
The award ceremony will take place on November 6, 2018 in Berlin, Germany.
More information:
Further information about the competition (e.g. about the terms and condition and jury) can be found on the competition website and on the Ceramics and its Dimensions website.
Clip Award 2018 is part of the EU-Project Ceramics and its Dimensions, which is led by Porzellanikon porcelain museum and co-funded by the Creative Europe programme of the European Union. The competition is carried out in co-operation with Kahla porcelain.